With over 40 years of experience in design/manufacturing and installation of all types of gates, we offer gates that will operate in all kinds of terrain and application conditions.

As the bottom beam is critical to ensure that a gate is straight our sliding gates are manufactured with two sizes of bottom beam 150x100mm for gates 0-6m long and 200x100mm for gates 6m – 20m. Gate wheels are machined to 150mm diameter. Smaller diameter wheels causes problems with automated gates and have a higher rate of wear & tear. Two types of gate tracks are used;koekepan track is used for tracks that will be exposed to heavy vehicles and 50x8mm track for light-medium vehicles.
The infill of the sliding gate to follow the fence design proposed.

Fang manufactures a standard range of bar type gates to a maximum height of 3 meters and total width of 9 meters.
All gates includes for hanging and locking fittings. Posts sizes vary, depending on the gate width. Also available are palisade gates to a maximum of 2.4m and mesh type gates.

We manufacture specific special designs tailor made according to client specifications.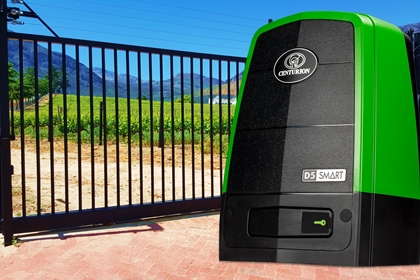 The full range of Centurion gate automation systems are supplied and installed by FANG Fences and Guards (Pty) Ltd.