Fang can design and implement an array of CCTV systems, linked to various recording and display options.
Close Circuit Television (CCTV) through its proactive and reactive nature is a vital instrument for a company/ institution in combating losses, pilferage, damages, crime and most importantly assist in being proactive in order to protect human lives.
CCTV has a deterrence value as the result of the awareness that is created, visual policing so to speak, that would-be perpetrators' actions are viewed and/or recorded. The footage obtained may then be used against perpetrators in a court of law if they are caught, or be instrumental in being caught in the first place.
The fundamental success of CCTV in a crime related application is the quality of footage captured, and the procedure followed to prepare the footages as evidence to be submitted in a court case.
The advantages of CCTV are not only restricted to serious crimes, but can also assist in the management of shrinkage (thereby improving business profitability) and support performance management approaches in the work environment.
The installation of a CCTV system is typically a major investment, where return on investment is queried, as it is most often very difficult to quantify.
A correctly specified, designed, installed, managed and maintained CCTV system can be an effective tool for the loss control in security departments of companies, lifestyle/ residential estates and law enforcing agencies.
The primary objectives of installing a CCTV system within such environments are:
CCTV Surveillance System Components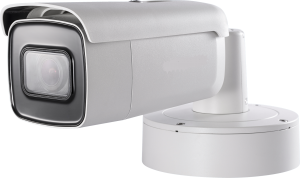 Security cameras are the starting point for most CCTV systems. There are endless possibilities when choosing CCTV cameras and lenses – everything from fixed models designed for monitoring very specific locations, to day/night cameras, powerful PTZ domes for patrolling large areas and thermal cameras.
In a traditional CCTV setup, operators view footage from a central location on a monitor very much like a TV, but with higher lines of resolution for better picture quality. Monitors can be dedicated (meaning they display video from a single camera), or call-up (meaning operators can access multiple cameras at the same time).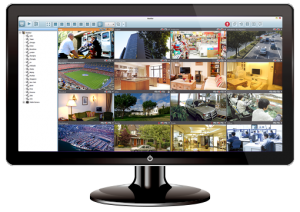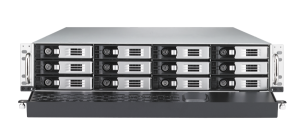 Most CCTV systems incorporate NVRs (Network video recorders) which enable operators to reap some of the benefits of a network-based surveillance setup.
Fixed CCTV cameras typically have in a single field of view of which the area covered, is determined by the lens size of the camera, which makes them perfect for monitoring very specific areas of interest. They're also preferred for applications where it's beneficial to install cameras in clearly visible locations. For this reason, fixed cameras are quite effective not only for capturing footage of suspicious activity, but also for deterring criminals and vandals from carrying out their acts in the first place. The direction of the camera is set during installation. Many cameras also accept interchangeable lenses and housings, so you have the flexibility to meet a wide variety of surveillance needs.
PTZ cameras are ideal for wide-area surveillance. They give operators the ability to remotely control pan, tilt, and zoom functions to follow activity and to zoom in for detailed monitoring. This is an area where analogue CCTV cameras fall behind their IP camera counterparts. With IP cameras, the pan/tilt/zoom functions are controlled manually or automatically and delivered over a single network cable, while analogue cameras require additional wiring to perform similar functionality.
IP video technology provides flexible, scalable, and cost-effective surveillance solutions suitable for a wide range of industries and applications. With an IP-based video surveillance setup, users can monitor and record video remotely using an IP network as the system's backbone. IP video installations can be deployed in any environment, and offer many benefits previously unavailable with analogue CCTV systems.
Network Camera Considerations
A network camera is essentially a camera and computer in one. These cameras capture and transmit video across an IP network, which allows for both local and remote viewing and video management. IP cameras connect to your existing IP network just like any other network device. The advantages of network cameras over analogue equipment include remote monitoring, digital storage, cost-effective installation, flexibility, and scalability should you need to install additional cameras down the road. IP cameras are available in countless makes and models offering limitless surveillance possibilities. Choosing the right network camera setup depends on the specific needs of your surveillance application.
Video Surveillance Management
The network camera is only one piece of the IP surveillance puzzle. Because network cameras transmit data digitally over an IP network, new worlds are opened up in terms of video management. Users can access their cameras from anywhere using a standard web browser, and are provided with advanced tools for monitoring and recording with IP video management software.
Surveillance System Considerations
There are a number of factors to consider when setting up an IP-based surveillance system. Network cameras transmit data over your existing IP network, so optimizing bandwidth is important. You'll also need to think about storage: How long will footage are archived? What type of image quality do you require? Will recording be continuous or triggered by motion? Other key considerations include network security and system scalability. Putting thought into these areas before you set up your system will help to ensure that you have the right equipment and the proper game plan to fulfill your surveillance requirements.
ANPR – Automatic Number Plate Recognition
ANPR systems use optical character recognition software to convert images of vehicle registration numbers into information for real time or retrospective matching with law enforcement and other databases.
They have been hailed as mechanisms for "denying criminals the use of the road" and "intelligence-led policing". They have also been described as a foundation for intelligent transport systems (ITS) and congestion management regimes. Promoters of private ANPR networks have marketed them as solutions to non-payment by customers at petrol stations and as a tool for cutting costs in the management of commercial car parks.
They are also known as License Plate Recognition (LPR), Car Plate Recognition (CPR) and Automatic Licence Plate Recognition (ALPR) systems.
Summary of an IP CCTV Security System:
An Internet Protocol camera, or IP camera, is a type of digital video camera that receives control data and sends image data via the Internet. They are commonly used for surveillance. Unlike analogue closed-circuit television (CCTV) cameras, they require no local recording device, but only a local area network.